Super Wild War '22
Super Wild War '22 is a turn-based strategy game for the classic Sega Master System console (or Genesis/Megadrive in compatibility mode). The game can be played on other devices by using an emulator (not included!).

Choose from three different campaigns. You can play as Goat Governorate, Frog Fellowship, or Cat Commonwealth. Each faction has unique units and a special ability.
the goat power raises defense
the frog power raises agility
the cat power increases money earned when destroying enemy units
In some scenarios you'll need to stall for time just to survive, while in others a quick advance will be rewarded with more money and experience points.
Units have long-range weapons with which they can attack from a fixed position, or they can move around the map, with non-flying units picking up different bonuses and/or penalties according to the type of terrain they land on. Close-range attacks can optionally be used after moving. Attackers have two chances to inflict damage, while defenders can make one counterattack.

After clearing each area, units can be upgraded in the Mech Workshop.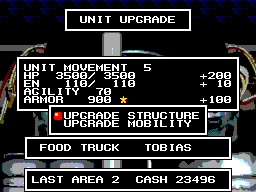 The game includes a password system allowing the player to resume the game at a stage which they had reached previously, and preserving a portion of their experience points and money.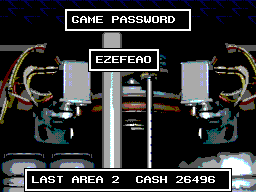 note 1: 128KB ROM image, works with typical mappers such as 315-5208.

note 2: uses PSG sound only.
note 3: the SMS2 version uses an expanded 256x224 screen mode (does not work on original SMS or Genesis/Megadrive)

Download
Click download now to get access to the following files:
Super-Wild-War-22.sms
128 kB
Super-Wild-War-22_(SMS2).sms
128 kB